I haven't posted in a good moment…guess that is how life goes sometimes when you are chasing two kids 🙂 One who is about to turn 2 and showing every sign of it. oh my goodness. My children are so different. They are wonderful in every way but so very different lol.
Anyways. I think one of my last post was about my dear friend Holly that I grew up with who had a brain stem stroke on December 29, 2012. She is a living miracle, still recovering. She was blessed to spend time at TIRR in Houston, Texas and has recently been moved to home with her parents who are providing home care. You can read more about Holly's journey of restoration at http://www.hollygilstrap.com. You will be inspired!
We were blessed to be able to be a part of a fundraiser for her family"Hollypalooza" and I made some cute little Minnie and Mickey Mouse Easter Basket. It was my first craft booth event. It was a lot of fun. I got to see lots of people I love and who love Holly..win win for sure. 🙂 Anyways..back to the giveaway. I have 2 baskets left!  So I am listing 1 in my Etsy and putting the other in this FABULOUS GIVEAWAY!
The pattern for this wonderful basket  can be found at: http://www.etsy.com/listing/112748865/crochet-pattern-girl-mouse-halloween?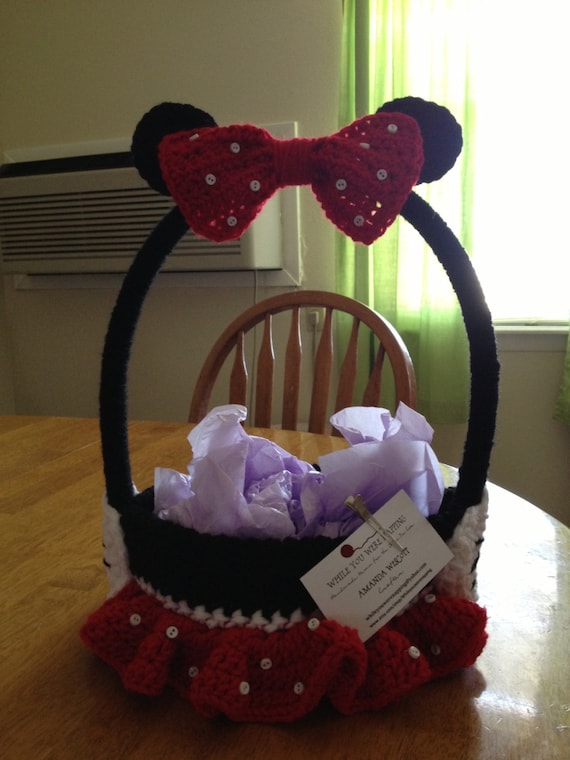 Here's how to enter:
a Rafflecopter giveaway
Let the fun begin!
---
12 responses to "
Lets do a giveaway!

"